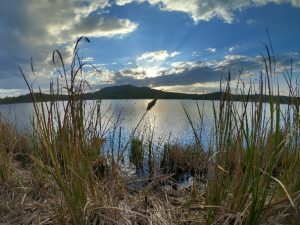 That is the wrap on the Wildfire Raid for 2019!  The weather came to the party for everyone, with the forecast winds a definite no show leaving glass-like conditions on the lake in places for people to paddle about on.  6 hour teams all seemed to enjoy the views from Mt Joyce (how could you not!), while the trek heavy tactic proved a winner for the 3 hours.  The dedicated mountain bike trails of the Recreation Reserve seemed to also please those who rode them.  All in all, feedback suggests that fun was had. A swag of photos from the race can be found here.
The 3 hour event podium seemed to come down in the end to tactics, with "Team Ridiculous" (Colin Clarey, Alex Clarey) being the only team to clear the course and electing to run for the mountain bike controls. "Happy Ending" (Brad Wirth, David Billing) came in second only 60 points shy, whilst "Are We There Yet?" (Sonya Palfreyman, Shayne Palfreyman) rounded out the podium.  Of worthy mention was the Chapel Hill primary Year 2C collective who came in 5th (teams "Womby Goes Racing", "Speedy Snails", "Jedi" and "Skywalkers") – all had team members ranging from 5 to 8 years old.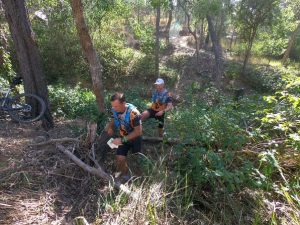 The 6 hour event proved to be quite an exciting little finish.  I felt the course was not clearable in setting, but would tempt maybe 3 or 4 particularly strong teams to try.  However, when "Wild Earth Tigers" (Gary Sutherland, Liam St Pierre) came in half an hour early having only dropped two early trek checkpoints (to their dismay) I felt sure I had gotten it wrong.  The clock ticked on, and still with ten minutes to go, a couple of the contenders were still absent.  "Wild Earth" (Gary Palmer, Russel Stringer) punched in with 5 minutes remaining….but had also dropped a couple after a few mistakes out and about, and trailed in points.  It seemed we were then waiting on one team, and when "Tri Adventure Cassloshy" (Dave Schloss, Cass Kimlin) raced in with seconds to spare, I felt this would be the winner – alas, the course remained uncleared with a 2 way tie in points for first, leaving "Wild Earth Tigers" the overall winners on time.  Not surprisingly, the experienced pairing of "Tri Adventure Vintage" (Jan Leverton, Kim Beckinsale) came in 4th with first overall women honours.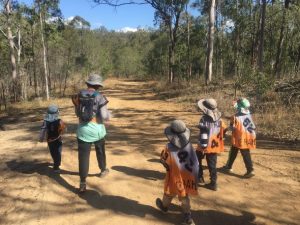 As always, these events are entirely dependent on volunteers, and we had a heap of help on game day.  Many of the usual local gun "A team" of running an event were there again.  Firstly, where would the SEQLD AR and rogaine scenes be without the Kromes?  Mitchell, Greg and Michele were there all day doing everything, certainly not resting on the fact that they are organising the 24 QLD champs in the not too distant future.  Likewise, Dan Browning and Paul Guard (who honestly seem to be involved in organising just about every event these days somehow!) were there helping keep the ship straight.  Thor Harrison, fresh from an AR World Series race in Norway and with bub in tow, was able to get anything asked at short notice done.  Jason Avery gave me peace of mind with respect to First Aid duties, but also helped run the admin.  An unexpected gem was found in Fiona Crossley, who I had not met before the day – she simply took charge of how the admin would run to the point that I felt well and truly redundant and was only getting in the way.  Last (but never least) was Mr Raid Adventures Liam St Pierre, who was every bit the co race director and looked after all of the least fun stuff (permits, managing bibs, entries, setting up admin, unloading kayaks etc) – I'm just super glad it could be worked that he could have a play on the day and come out winner in the 6 hour to boot.
Massive thanks to Wildfire Sports for the continued support of this race and a truly fantastic prize pool.
Thanks to Subway Beaudesert for the catering on the day.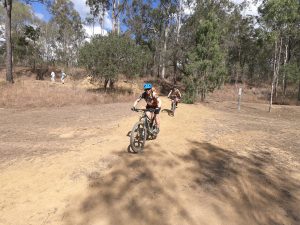 Just as a final piece of admin: we are missing two race bibs from the day (a #1 and a #63 bib). If they turned up in your race gear during the clean up, please send an email to rogueadventureracing@gmail.com.  Finally, we welcome any race reports or photos and will post them up on our social media.
Remember, if you enjoyed the event, the next Raid Adventures installment is the MOJO Raid on the weekend of the 14th of September with a mix of 3, 6 and 12 hour options.  The premier SE QLD rogaine event, the QLD Champs, is also coming up on the weekend of the 24th of August.  As with all rogaine format events, both of these are suitable for novice and elites alike – you get to choose your course, and how long you are out on it.  I know for a fact that the organisers of both of these events have put special thought into shorter and more novice/kid friendly options, and both are sure to have a fun and social Saturday night around a campfire and a few reds.
Until the next one.
Adam