Why Do We Need a Colts Academy?
Anyone that has done even just a single adventure race would be able to tell you that the barriers for entry can be high. Equipment for three (or more!) different race disciplines, travel to remote wilderness locations to race, a unique skill set that includes the dying art of map and compass navigation, pulling together a team of like minded individuals: it's no wonder that adventure racing on average attracts a more mature audience.
Indeed, if you look at the age data for races in Australia, adventure racing has an aging population problem. An analysis of the data kindly donated by Geocentric Outdoors from two of Australia's longest running premier AR event indicates a clear upward trend in average age. By way of example, in the 12 years from 2004 to 2016, the average age of a GeoQuest competitor has risen by a decade from 31yrs 7mths to 41yrs 7mths! This is a trend that we need to reverse for our sport to be sustainable.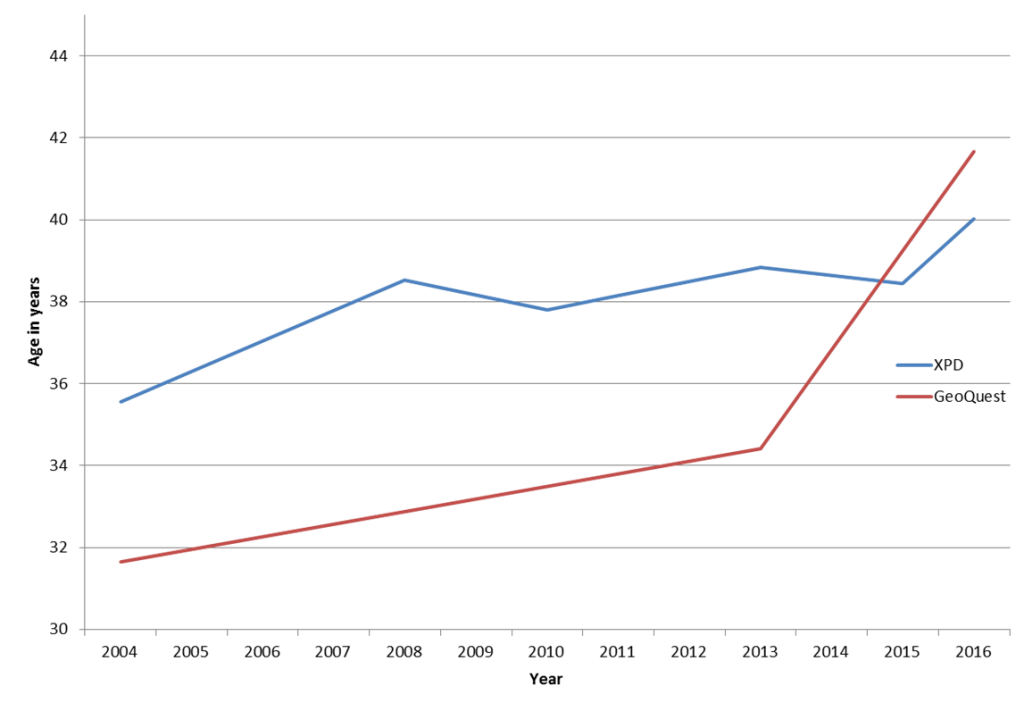 Again, just as anyone who has done an adventure race could tell you that the barriers for entry are substantial, they could also tell you that the potential rewards for youth are innumerable. The benefits of outdoor education and play are well established: contact with nature will influence health into adulthood, increase cognitive function and lead to long term gains in attitudes, beliefs, self perceptions, interpersonal social skills and memory creation and retention. And there is no doubting that adventure racing serves this up in spades.
A Pathway Into Adventure Racing
The Colts Academy is initially being run as a pilot program for a limited number of students before, hopefully, it can be rolled out on a larger scale. We aim to keep the barriers of entry low. We can provide as much of the gear as you will need: kayaks, compasses, map board – we can even arrange bike hire. Mum's and Dad's will be looked after with spectator friendly locations.
The Raid Adventures director, Liam St Pierre, is a Blue Card Holder, a parent and has significant experience working with this age demographic as an Education Coordinator in a STEM promotion program. The Academy clinics will be as practically based as possible. Down the line we will also be offering online resources for budding Adventure Racers to upskill – more on that to come!
The Colts Mentor Program
If you think that this also sounds like a fantastic initiative, but the last time you blew out just 21 candles on your birthday cake was a long time ago, then we at Raid Adventures are still keen to have you be involved. We are chasing Mentors to help nurture the next generation of adventure racers: more details can be found on this initiative over on the Mentor Program page.
Want to See A Colts Academy Program Near You?
If you are keen to see the Colts Academy program come to a location closer to home, get in touch. We are looking to expand the program down the line and would be keen to hear from you. We can be reached via the details on our Contacts page.
Final Thoughts
An ultimate win for the Colts Academy in my books would be to see a youth team from Australia mixing it up on the world stage of expedition racing. But even if the program manages to get a handful of kids out in the Australian bush running around with a map and compass in hand, then that's a real win. Come join us for a Raid Adventure.