Now in its fifth year, the Urban Raid (formerly Urban Rogue) set new ground in terms of participation, suggesting a healthy future for the navigational sports. Over 300 competitors and 109 teams toed the start line for another fantastic event. What was very encouraging to see were more than 140 competitors who had never done a Raid event before, along with the 41 students racers competing.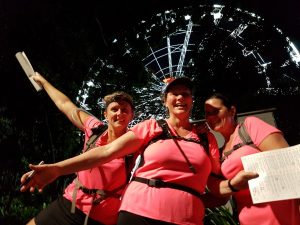 With a wet week in the lead up to the race, the weather gods smiled down kindly on the Friday evening without a drop of rain, although it did leave temperatures rather humid. Map prep time always flies by, and in the blink of an eye the opening briefing was done, the Dukes of Edinburgh ceremony run and teams were streaming under the starting arch for 180 of intense urban navigation.
Route strategy will always play a key role in any navigational race, but there was one obvious "must get" CP out on course – the 120 pointer at the store front of event sponsors Wildfire Sports and Trek and the chance to win a fantastic back pack from Osprey Packs. No excuses now for anyone looking where to go when they need that last minute adventure gear purchase. Another popular CP was the photo op at the Continuous Division sculpture which, despite initial fears, had yet to be moved away during pending construction.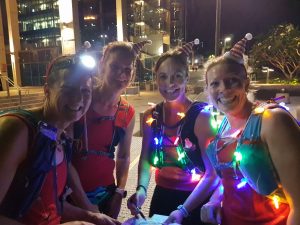 As the night rolled on, teams began to stream back in to HQ creating the  normal peak hour rush. A big thank you to Derek and Tashi McKinnon for their unwavering support as volunteers in processing all the admin on the day. Another big thank you to Dan Brown and Paul Guard for setting up the online answer form system which really streamlined the results process. The Urban Raid is also proud to support the Dukes of Edinburgh program in their fund raising efforts – a big thank you to their volunteers for the event catering.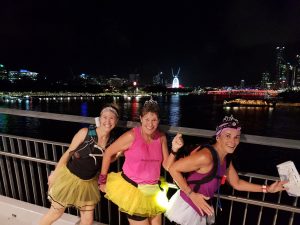 Turning to results, a big congratulations to overall winners Rochedale Runners, backing up their title defence once again.  They were pushed all the way be team Disorienteered, collecting just one more check point with a total of 35 of the possible 42 CPs.  Other category winners included Parkrun on Tour in the On Wheels category (3rd overall), EverydayLifeFitness/TigerAR wining the mixed (5th overall), Night Owls winning the female category (10th overall) and team Congo winning the veterans category (9th overall). A big shout out goes to all our Colts teams for very impressive performances across the board with the title taken out by orienteers Thomas and Sam in 6th overall.  Next year I might have to give a prize out for best dressed as there were some very notable outfits, generally Christmas themed, doing the rounds.  Another honourable mention goes to Phil Scott who, after being singled out as the oldest competitor at age 67 on social media, powered home strong to finish 7th in the On Foot category (8th overall) – there's hope for us all yet! A full list of results with all the juicy details can be found here.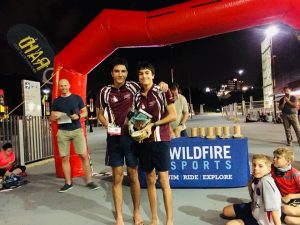 In a wrap up of results it would be remiss of me not to thank Alan Ferris.  Once again, Alan set or vet the check point locations, ponied up prizes through his company Ferno Engineering and came out on the day to get all the fantastic images which have now been uploaded to Facebook here.  Every year I joke that Alan makes the best course vetter, because if he can find the check point, anyone can, but the reality is that Alan puts a lot of heart and effort into this event and is a major part of its success.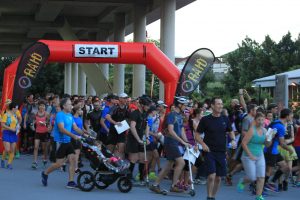 So that brings another year of rogaining to an end.  It has been a bumper year for the navigational sports, and I'm predicting an even bigger year in 2018.  The Urban Raid will return with a preliminary date of 7 December 2018 pending HQ availability.  Next year QRA will be hosting the Australasian Rogaine Championships in August.  Raid Adventures will return with a full stable of events.  The Colts Race and Academy program have taken their first entries and I'm excited to see this initiative finally get off the ground.  The Rogue Raid 24 hour race opens it's entries this Friday in partnership with the Adventure1 series.  Course scouting on for the Mojo Raid has begun with more news to follow.  HQ has been booked for the Frontier Raid and I'm just about to submit permit applications – this event takes in an area all new to AR and I'm very excited about the potential of this race to be the number one sprint AR in QLD.
Stay safe over Xmas, happy trails and I look forward to seeing you at a rogaine in 2018.