So after a short enforced hiatus, the Rogue Raid is set to roll out on the weekend of 29-30 August.  Now in its eleventh year, the Rogue Raid (formerly the Rogue Adventuregaine) has explored courses all over south east Queensland and even extending into northern New South Wales with an epic 100 hour journey in 2019. This year's course offers up something a little different from the typical Rogue course, exploring the bayside waterways and islands of Southern Moreton Bay before traversing to some of the local region's fantastic mountain bike parks and urban forestry.
As usual we like to take a look at not just the course in store ahead for teams, but the competition pushing it at the pointy end. It's a slightly reduced field this year of 128 competitors split across 45 teams made up exclusively of Queenslanders, with no international or interstate teams able to make it. The racing is split into two fields with teams of four and teams of two competing on a different footing, primarily due to the supply of kayaks.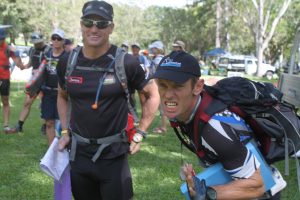 In the premier team of four category, it's impossible to go past team Tri Adventure Thunderbolt for the overall win. This experienced quartet is made up of race veterans Kim Beckinsale, Leo Theoharis and Dave Schloss who will be joined for the first time by Sunshine Coast athlete Oskar Booth. The initial trio have won many Australian races together including XPD and have more recently knocked off Eco Challenge Fiji where Leo and Sloshy finished seventh overall. In terms of the Rogue Raid, they have a long history of experience at this race, with Sloshy holding the enviable title of never having lost a Rogue Raid that he has entered.  As a strong paddling team, expect them to take an early lead with every other team chasing their tails.
And who will those teams be that are on the hunt for podium glory? My pick lies with two of the Tiger teams – Everyday Life Fitness Tiger and Shackleton Tiger. Both teams are made up of experienced campaigners that have plenty of local knowledge of the area that the race covers which will prove very handy, particularly in the second half of the course. If my own money was at stake, I'd give the edge to Shackleton Tiger between the two, but it could honestly go either way.
Of course, there are plenty of other strong teams that could come through as dark horses to upset the apple cart and pull off a podium – anything can and does happen in adventure racing after all. I'd expect a strong showing from the Tiger Adventure team and Off Trial Adventures Tiger, while Tiger Griffins and Tiger Cubs could be surprise packages.  I'll also be curious to see how our two colts teams perform – Two Lanks & The Lasses and Ratpack Hellions. There is no doubt that a 24 hour rogaine format adventure race is a tough but achievable challenge and it's great to see more youth teams coming into the sport and cut their teeth on some longer format racing.
Turning our heads to the team of two category, I suspect we may be in for some more dynamic racing. My dark horse pick for the overall win is team Can Paddle, Can't Run.  Dylan and Gav are extremely strong paddlers which will be a massive advantage in the first half of the race which is very paddle heavy – rumour has it that Gav has even built his own kayak for this race! A quick look back through Strava suggests that the team has been training strongly and if they can keep their navigational heads together, expect them to push to an outright early lead.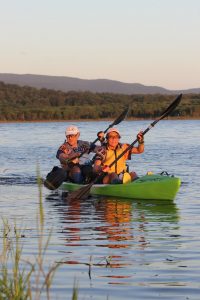 They won't have it all their way though, with both the Shallow Watermen and Shoulda Gone Surfing teams also made up of strong paddlers with the requisite experience to challenge at the front. It would also be remiss of me not to mention team Broken Tiger captained by possibly the most experienced adventure racer in the field, Gary Sutherland. Gary knows how to win races and would normally feature at the top of any predictions list, however there are a few caveats this time which will make things tougher for him. The teams is paddling a CTR double kayak, which should give up around 25% paddle speed compared to the top teams in their own boats in the early stages. Gary is also recovering from a bad leg fracture and is racing with a novice racer, which will also add to the challenge. However, you still can never write off this team. Looking over the other categories, teams like Somewhat Flash, The Goats and Bruce and the Bicycles all have the right mix of rogaine experience, local knowledge and navigational acumen to not put a foot wrong out on the course and post solid results in the mens, mixed and veterans categories.
So there you have it – my predictions for the 2020 Rogue Raid: team Tri Adventure Thunderbolt for the overall win from the team of four category with Can Paddle, Can't Run to give them a nudge from the team of two category.  No doubt there will be a few surprises along the line. One of the pleasures of organising a rogaine format adventure race is witnessing the real mingling of teams out on the course. The fastest teams aren't always the first through transition areas. Every team has their own tale to tell. I get to sit back and see some of the struggles and triumphs of all the teams out there as they tackle an adventure on a route of their choice and push themselves to their own limits – it's pretty inspiring to watch.
2020 certainly has been an odd year. Obviously there is a bigger picture going on globally, so we are feeling very lucky to return to some racing. Permitting and course design for this year's race has been particularly difficult, compounded further by the Covid-19 situation. Ultimately though, I'm very proud of how the race route has come together for a unique and fantastic adventure. The major paddle leg of the race is like nothing else from a Rogue Raid before and will provide a unique and tough challenge. Teams will need to be on their toes not just navigationally, but strategically when taking wind and tides into account. The first trek leg is through terrain you won't find on any other Rogue course. Some of the mountain biking covers the best single track riding you can find in South East Queensland.  I've had a lot of fun with points allocation on the bike legs which are CP heavy but points light versus the trek legs which have fewer CPs but of higher value. Again, teams will need to be clever in working to their strengths when deciding their race strategy.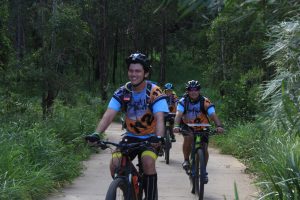 Which makes is all the more sad that we won't be able to be joined by our interstate and overseas friends. We're in such a lucky place to be able to get back to racing. As part of the Adventure1 series, I'm often in conversation with other race directors across Australia. Wildside has already been cancelled for 2020 and without speaking for the other organisers, it's hard to imagine other races in NSW and Victoria going ahead this year unless the situation dramatically improves.  I suspect the Mountain Designs Adventure1 series will be a bust for 2020 and we'll have to regroup and kick things off fresh in 2021, but this will need to be reviewed down the line. In saying that, when these races can come back online, make sure to throw your full support behind them and get out to as many as possible – there's plenty of adventures to be had and I certainly hope to be there.
Looking forward to seeing you on the start line from a social distance soon.  Friends and family can follow all the action with GPS tracking, photos, news blog, leaderboard and more here: https://raidadventures.com/2020live/
Liam