In its 14th year, the Rogue Raid returned to where it all began with an epic 24 hour rogaine format adventure race in the Somerset region surrounding Lake Wivenhoe. A bumper field of almost 160 athletes from across Australia and New Zealand were challenged with an unfinishable course that spanned over 260km of trekking, mountain biking, kayaking and swimming.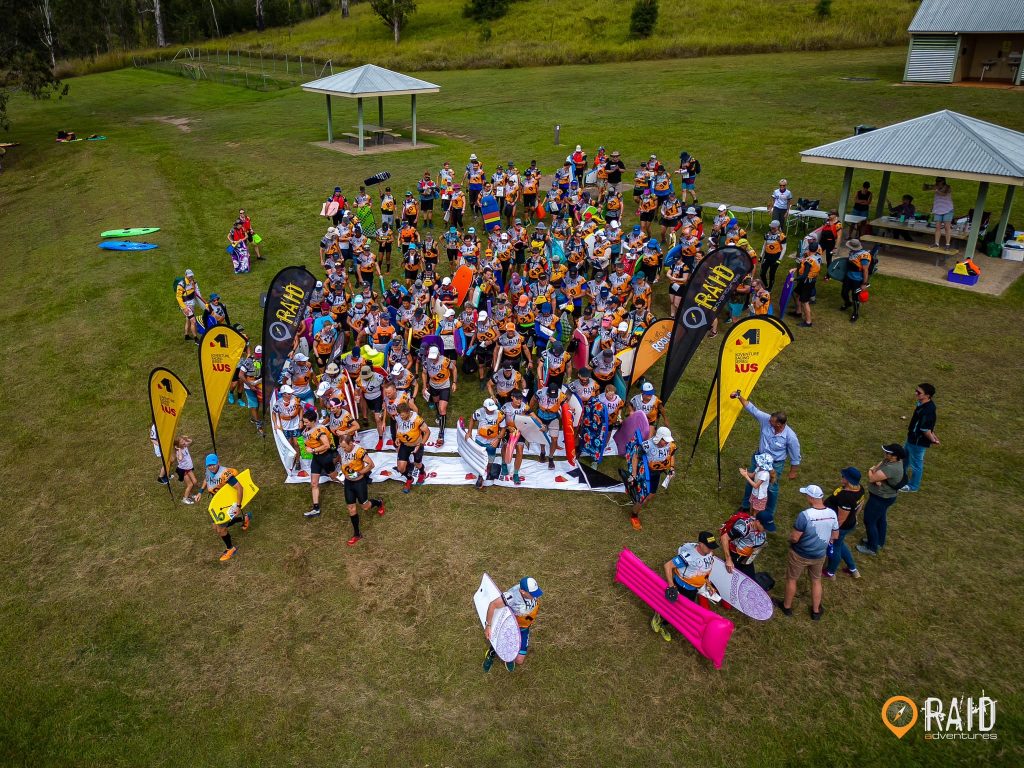 A look at the start list suggested one of the most competitive fields seen at a race in Australia for a long time, with household names including Thought Sports, Alpine Avengers, Chipesti and 3 Points of Contact racing in the premier A1 category along with a number of competitive pair teams that were sure to push them for line honours.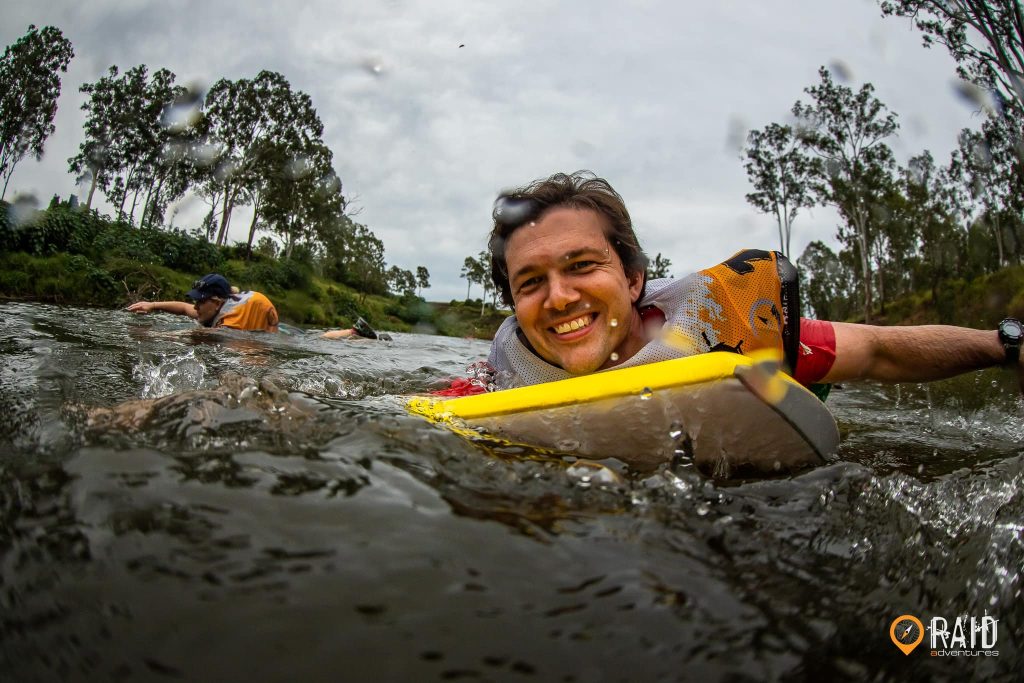 Racing kicked off with a short foot rogaine leading into a 1.5km down river swim on body boards to the first transition area. The different strategic options were on full display straight from the gun with some of the top teams electing to drop small value check points early in a bid to get out ahead of the course. The image below shows the varying different routes selected by what would eventually be the top three A1 teams. The lead teams (down on points but ahead on distance) blew through the first stage in under 40 minutes (with the last team taking over two and half hours) and were back onto the water for a down river paddle to Savages Crossing where their bikes awaited.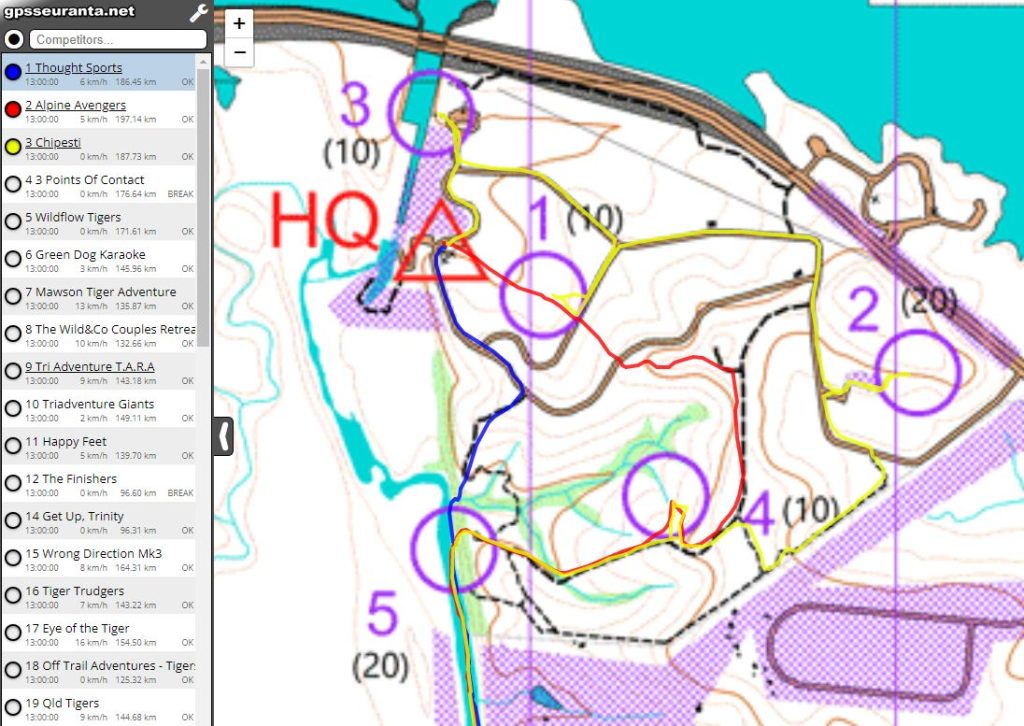 Heading off on bikes for stage 3, the different strategies again came to the fore with a number of strong teams electing for a big loop north into the hills up to Mt Nebo township, although the order they approached controls did vary from team to team. Interestingly, team Astrolabe who were one of the favourites in the pairs division elected to drop all but the minimum controls on the bike leg to again get ahead of the course, hitting the third transition area of the race first in the late afternoon. From here it was an optional trekking loop up to 23km long in the Mermaid Mountain area. As darkness settled, the navigational difficulty increased, compounded further by a rain front which rolled in overnight. The rain also increased the difficulty of the riding conditions, with many teams reporting the otherwise easy going along the Brisbane Valley Rail trail to be a lot tougher than expected under the prevailing conditions.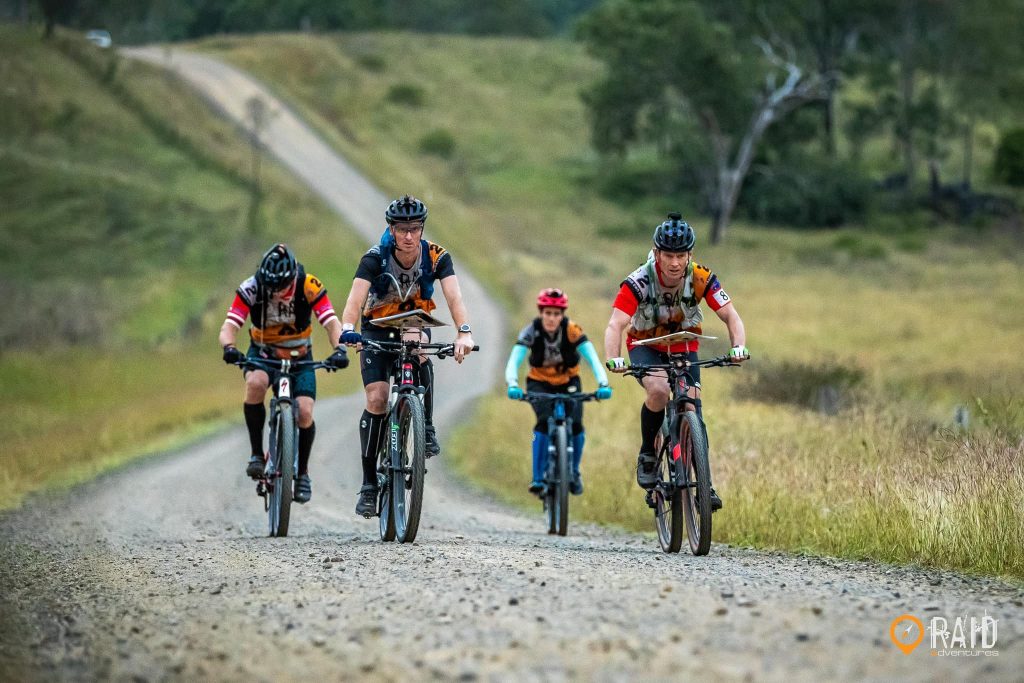 As dawn rose, teams made their way by a long bike leg to the final transition area on the shores of Lake Wivenhoe for kayak loop, trekking loop and final ride the finish line. As is typical of most Rogue Raid 24 hour races, the final stages had some juicy points on offer for teams with the perseverance to race hard to the end. Again, team Astrolabe were first out on the water, followed shortly by the Alpine Avengers and Thought Sports who rolled into the TA as a bunch. They were followed not long after by Chipesti who made the strategic decision to not waste time transitioning for the kayak stage and headed straight off on the trek leg. Much later was team 3 Points of Contact, however they had a fuller scorecard having elected to collect more check points earlier on the course. As a spectator, it was just too close to call as to who had the lead at this stage and it was all still to play for.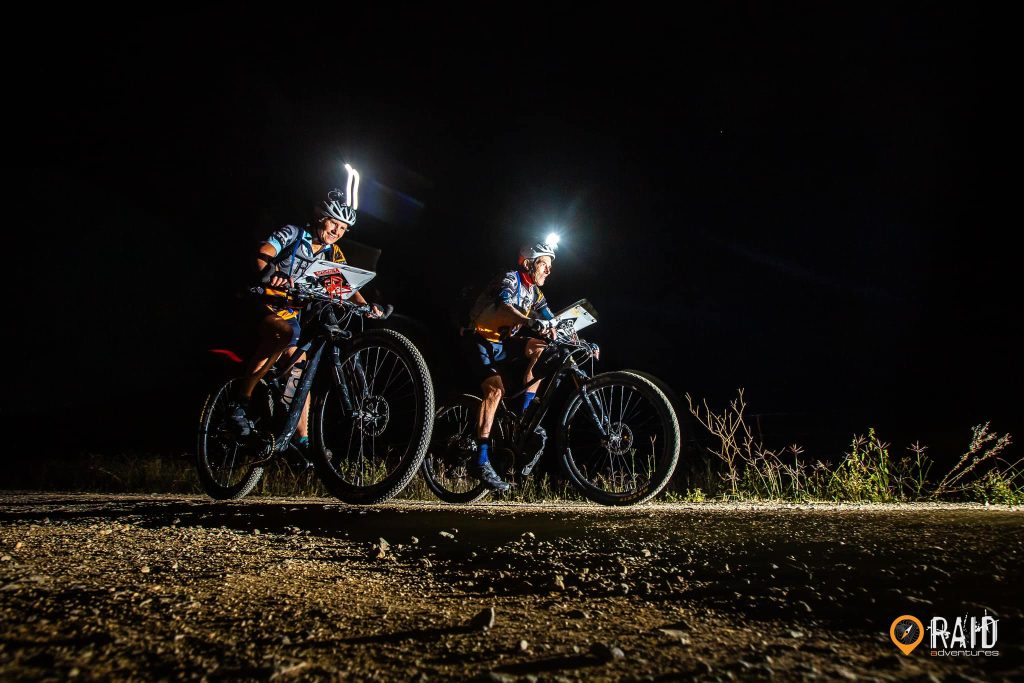 Teams needed to make one final call on how much time they needed to make the 12km to 14km ride home to avoid any time penalties, something that all teams managed successfully. When the racing was all said and done, it was team Alpine Avengers who had scraped ahead of team Thought Sports by just 20 points: less than a 1% margin in their scores. Team Chipesti rounded out the podium for the A1 category, with strong performances by teams 3 Points of Contact and Wildflow Tigers to take out fourth and fifth respectively. With such close results, many teams will be having the "if only" conversation with their team mates after the race, however that is the nature of rogaining that can make it so exciting. Every team has their own story about how things could have gone differently, and why it is so important to race right up until the finish time cut off.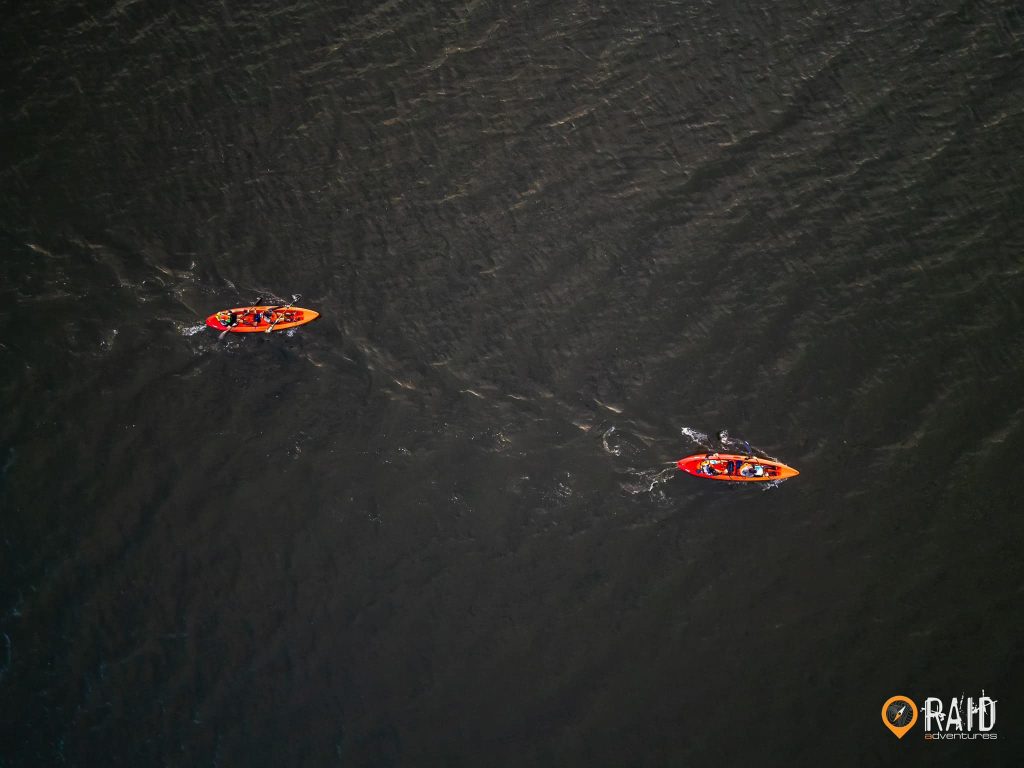 There were also some amazing performances at in the pairs category. Team Astrolabe made the most of local knowledge and a well executed route plan to not only take the win the pairs division, but finish third overall. The all women's team of Mountain Designs Wild Women posted an outstanding result of not just winning their category, but placing sixth overall: you can read about their race here. Indeed, we love to read your race reports, so send them through so we can share them with the other teams. The win in the mixed pairs category was taken by New Zealand team Dated Loaf and Pikelet (notable for having the oldest member of the race at age 73), finishing with a top 10 result overall.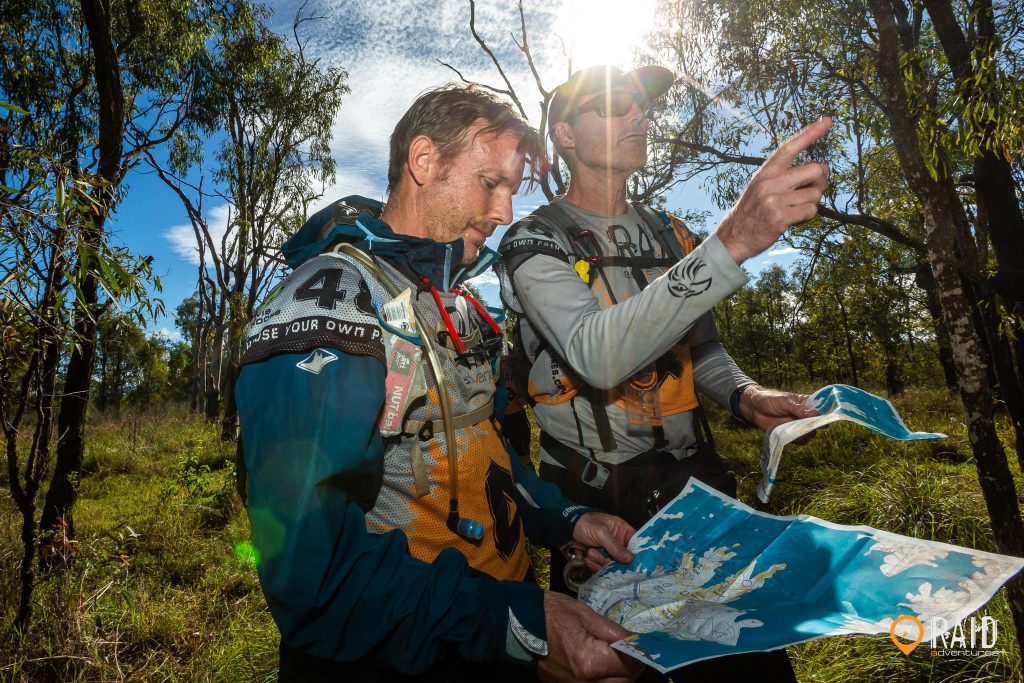 As the first race in the 2023 Adventure 1 calendar, the results have been updated in the national rankings, which can be found here. There has been a bit of movement of teams on the ladder. Significantly, despite a close second place finish at the Rogue Raid, team Thought Sports jump to their rightfully deserved number one spot on the ladder. The win also moves the Avengers into the top 5 after some bad luck at past races have seen this team under represented relative to their ability. Next up on the Adventure 1 calendar will be Explore Gippsland in Victoria at the end of July: I suspect you will want to pack an extra set of thermals for that one!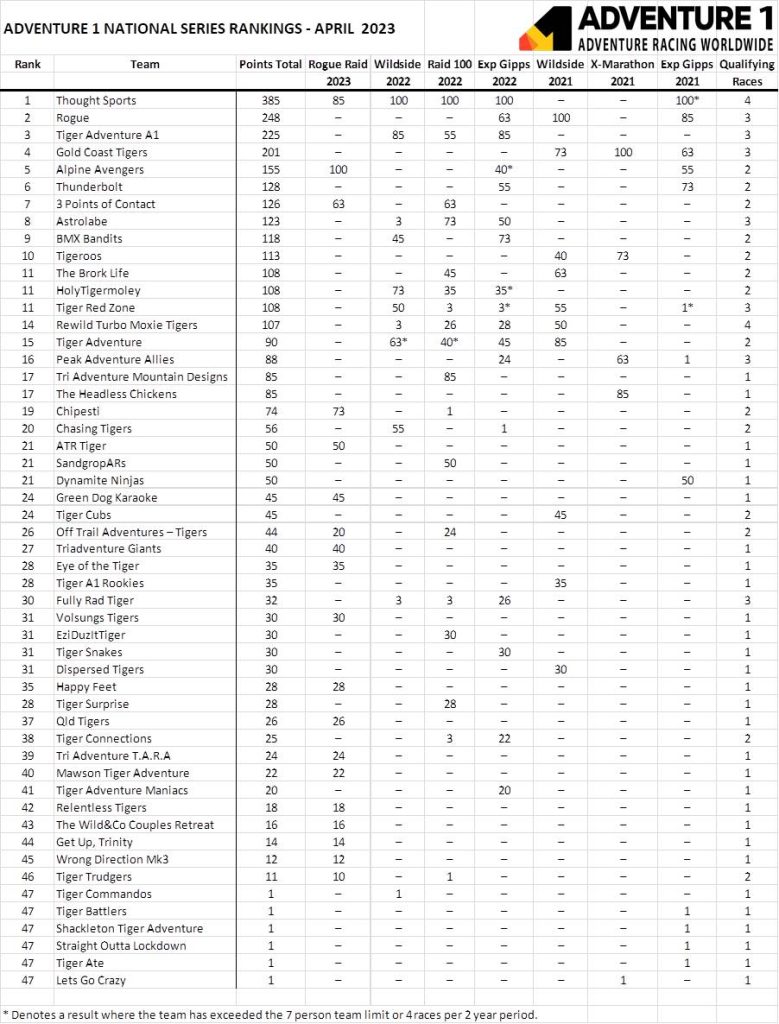 Much of the focus of this wrap up has been on the lead teams, however there are always some incredible stories from right though the field. This year's edition of the Rogue Raid was an epic in it's scope and distance. Many competitors reported having completed their longest ride ever in this race. Team Mawson Tiger Adventure had a disastrous bike mechanical failure that saw them have to scoot the bike for 50km, making the finish line with less than a minute to spare. There were also tales of navigational woe, wildlife encounters and comradery between teams. Congratulations to all teams that made it to the start line and took on the challenge of this unique event: seeing your smiling, grimacing, sleep deprived, muddy faces out on the course is always a highlight.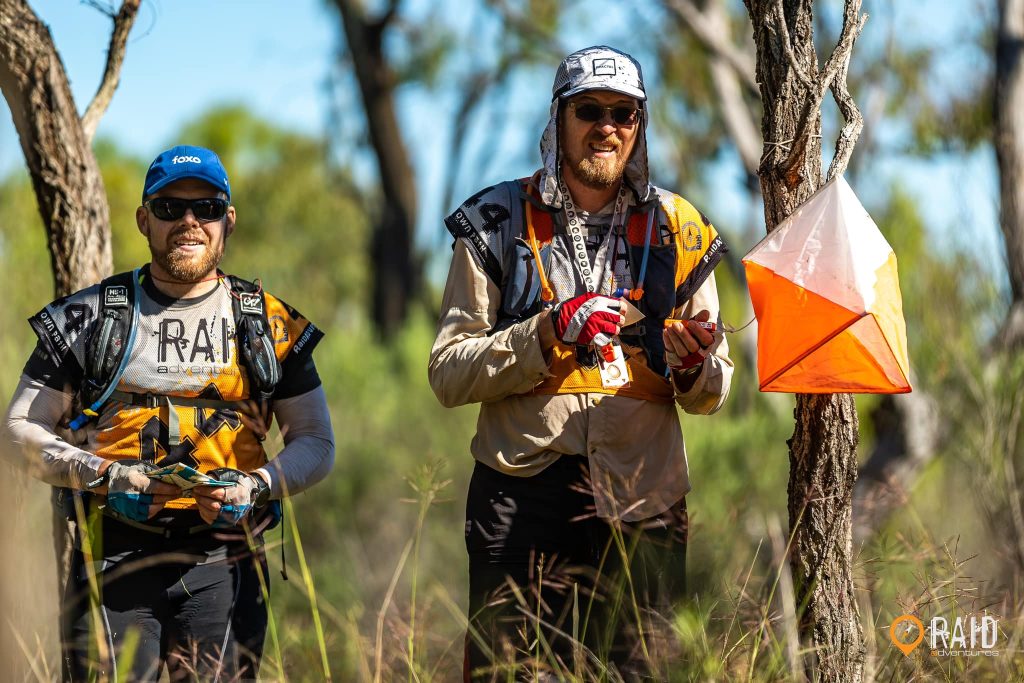 The full results can now be found online here, including a bunch of data for analysis.  Check out your route on the live tracker here and even download your GPS track here for posting on Strava for further virtual glory.  The leader board here has a breakdown of each CP visited by each team.  All but one check point (CP52) was visited by at least one team, with check points 5 and 7 as the only CPs visited by every team.  There are also full photo galleries available here (plus a photo highlight gallery here) and the race maps can also be found in digital format to download for prosperity here.  There is also a pile of lost property pictured here, mostly related to the first swim leg, that has yet to be collected.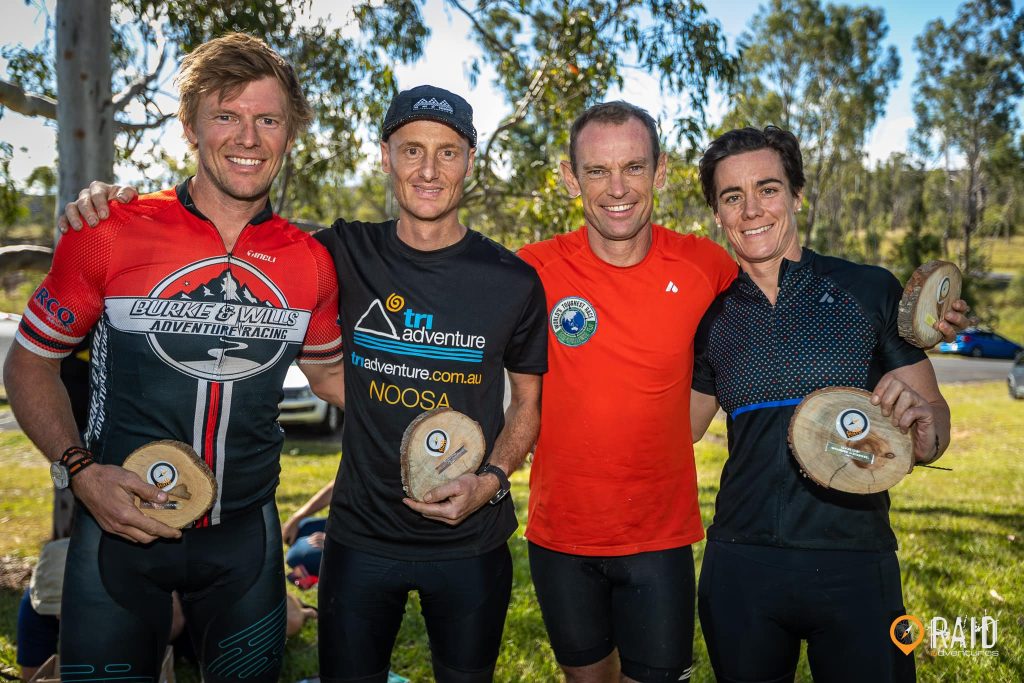 In setting the course, there were 3,000 total points available and I predicted that an elite team with a perfect race would take around 30 hours to clear the course. It is interesting to hear that many of the top teams worked out themselves that a score of 100 points an hour would be their target and form the basis of much of their decision making on which check points to go for. Ultimately, the winners managed a score of 92 points per hour, so they weren't far off.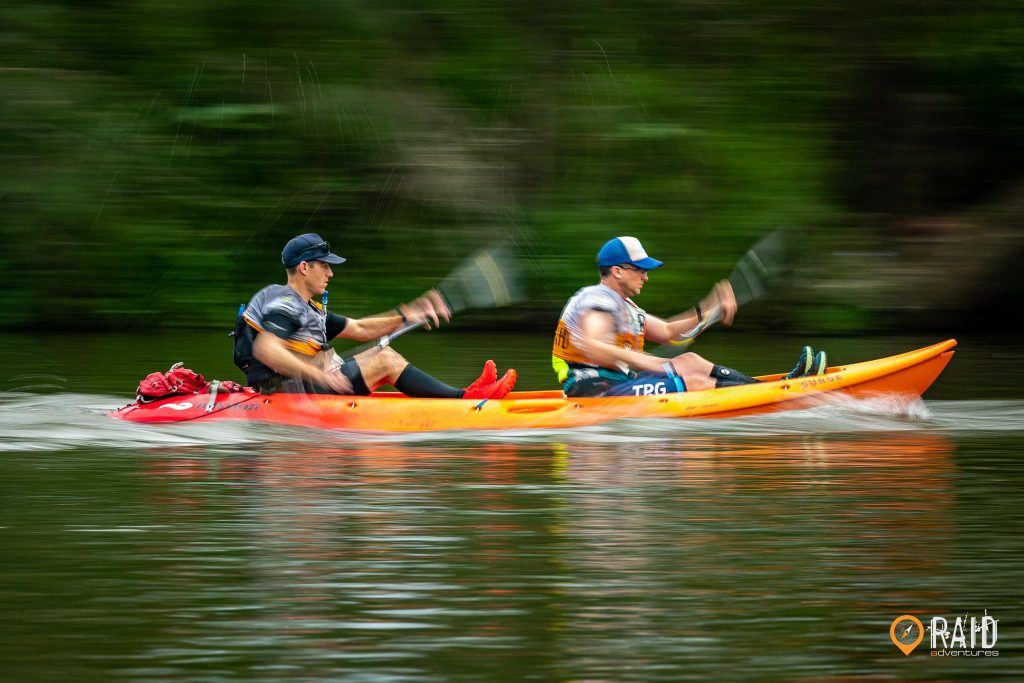 The Rogue Raid is set to return with another 24 hour course at a similar time next year. We have a location, date and route in mind and have started the course preparation process. Once we can confirm the key details, an announcement will be made shortly. Before then, the next race up on the Raid calendar is the Escape Raid. This is a weekend of multisport rogaining, with three events over two days and an evening of socialising and camping in between. Entries are strictly capped at 50 teams and are nearing capacity, so look to get an entry in soon if you don't want to miss out on this fantastic weekend.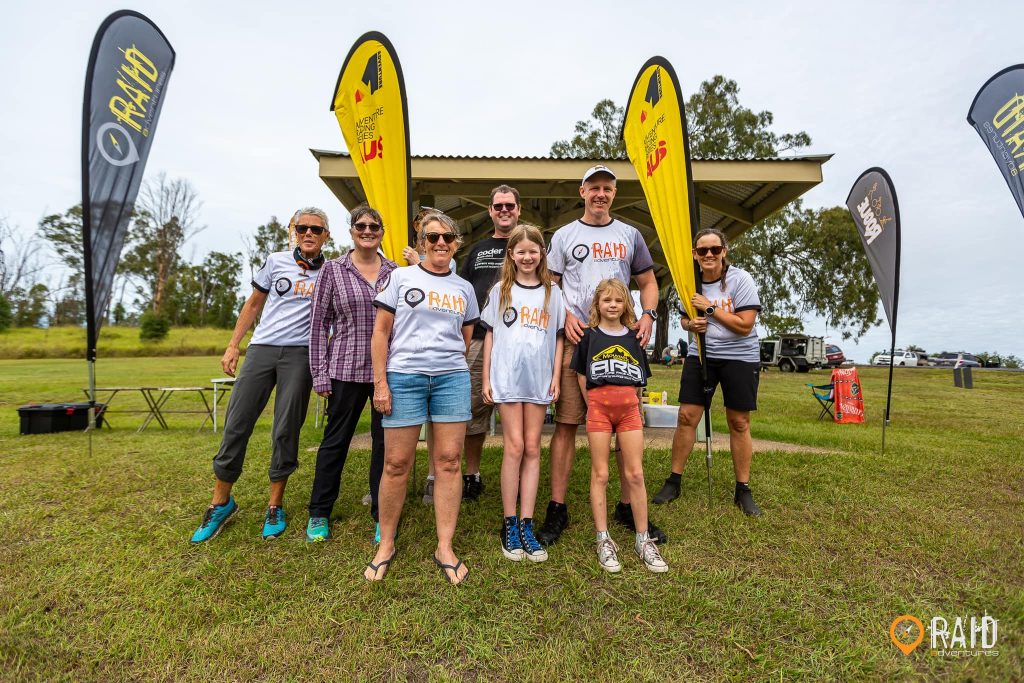 Finally a big thank you firstly to the Somerset Regional Council for their support of the event. And my deepest gratitude to the amazing team of volunteers who keep returning to this race every year. It is because of their efforts that the race runs so smoothly and safely on the day. I look forward to seeing you all on the trails at the next event soon.
Liam