The Urban Rogue celebrated its 10 year anniversary with a bumper field of almost 100 teams. The race continues with strong support from the rogaining community as the unofficial end of year break up, with plenty of colourful characters out on the course.
To mix things up for the 10 year edition, those familiar with the Urban Rogue will note that we mixed up the map to drop sections of the course north of Herston, but to now take in the New Farm area which proved to a popular change. Having to move the race forward a week to avoid a venue clash at Lang Park also didn't seem to deter competitors.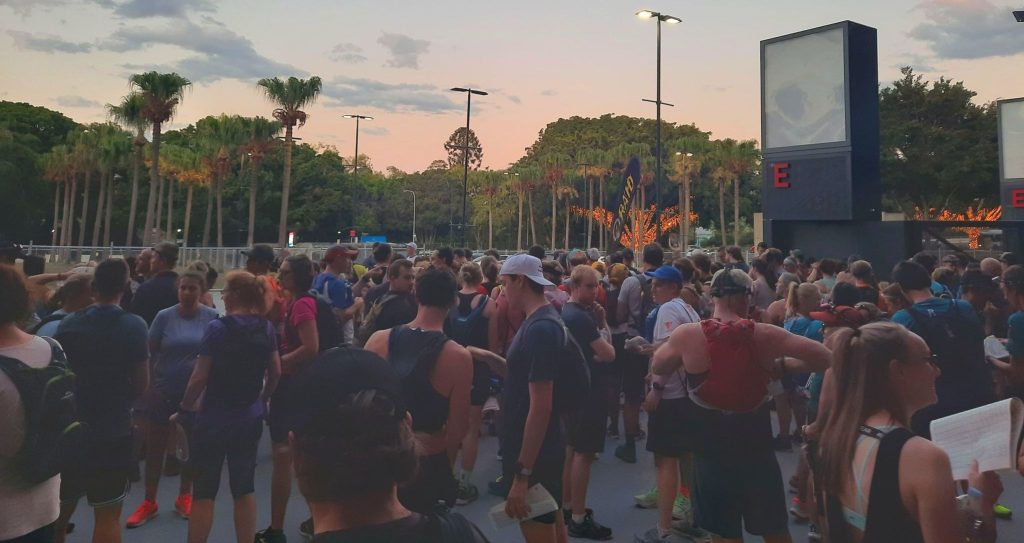 There were some great performances over the night. The overall title was taken by team RR (Rob Wilkinson and Rob Elliot) – apologies we missed acknowledging the awesome result on the night due to issues with another team's results submission. Our winning mixed team (third overall) was the Twinning pairing of Stephen and Anna, while the first place women's team (seventh overall) was team Tiger McTiger Face's Kim and Penny.
A big thank you again to long time sponsors and supporters of the event Wildfire Sport, along with serial volunteers Alan (course setting), Paul (entries and webform) and Derek + Calista (race HQ logistics). A big shout out also the PCYC for hosting the event as part of their fund raising efforts.
I just want to wrap up by sharing a couple of stories from the race. I think we had our youngest Urban Rogue competitor ever at just 7 months old, racing with their 3 year old sister who has never missed a race. In a similar vein, the Rochedale Runners made it 10 from 10 again this year – a fantastic effort bolstered by the fact that they have managed to win about 6 of those editions. I'm wondering if there are any other teams that have raced all 10 editions?
Finally, I'm sure you are curious about how things went for team MoGoMo. Just to jog your memories, this was the team that were using the Urban Rogue as a platform to raise funds for Movember. They did this by auctioning off check points which they would then collect in the order of sale, regardless of where they were on the map, managing to sell 24 CPs and raising $2,800 in the process. When I saw the list of the check point order, I estimated it would be about a 72km route. Well, 13.5 hours and 92km (!) later, the boys got the job done. If you trawl through the race photo gallery, you will see some highlights form the Craig and Kev – awesome job lads.
The race results page has been updated with results, photo gallery, race maps, question sheets and more, so be sure to check it out. A big thank you from Raid Adventures to all our volunteers, competitors and partners for a fantastic 2022. We're looking forward to a well deserved break before kicking it all off again next year!