Over 180 competitors took to the streets of Brisbane city by the Friday night lights on the hunt for check points during the seventh running of the Urban Rogue. Greeted with hot and hazy conditions, the 3 hour event has now become a mainstay on the Queensland rogaining calendar, wrapping up a busy year of racing.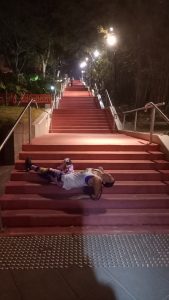 Past editions of the Urban Rogue have seen a close tussle between the top "On Wheels" team and the top "On Foot" teams, with the on wheels category claiming overall victory twice in the past six years. However in 2019 it was a dominating display by the Rochedale Runners to take out the overall victory once again. They didn't have it all their way with the men's veteran team the Urban Roadgainers just missing out on the title after incurring a late penalty: had they finished just 65 seconds faster they would have taken the win. Other notable performances include team Fromage a Trois winning the mixed team category (third overall), the Tiger Chicks winning the female category (eighth overall) and team 2XS taking out the colts junior category (tenth overall).
A big thank you goes out to all the event volunteers including Derek McKinnon and his family, Dan Browning and Tom McPhail. The Urban Rogue raises funds towards the very worth PCYC youth initiative programs. A great swag of prizes were donated by Wildfire Sports and Trek. A full list of results, photos, strava flyby and race maps can be found on the Raid website here.
In another new initiative, the Urban Rogue ran a special category for the top photo submitted from the race as nominated by our judging panel. There were some fantastic submissions which can be seen here, however the winning photo was taken out by the team Sunny Coasters.
The Urban Rogue is set to return in early December 2020. In the meantime, entry applications will open shortly for the Rogue Raid on Monday 16 December. Until then, the Raid Adventures team wish everyone safe trails over the festive season and we look forward to seeing you on the start line of a race in 2020.