Length: 3 hour Course
Next Date: Friday 6 December 2019
Location: Lang Park PCYC Brisbane
Team Size: Teams of 2-5
Categories: Mixed, Male and Female Teams
Class: Colts, Open or Veteran
Courses: "On Foot" or "On Wheels"
Cost: $40/person (Children Under 14 free)
Team List: TBC
Race Document: 2019 Urban Rogue Document
Organising team: Rogue Adventure
About
The Urban Rogue is set to return, now in its seventh year: a 3 hour metrogaine in the heart of the Brisbane CBD! Come experience the city Friday night lights, where you and up to three other team mates will navigate to collect as many check points as possible in a 3 hour time limit. Set at a time to capitalise on the cooler summer evening temperatures, this course is achievable by all levels of athlete. Whether you're out for a casual stroll with the family or one of the city's elite runners, you chose as much or as little of the course that you want to do. Only basic navigational skills are required with the option of an "On Foot" or "On Wheels" category.
HQ Venue
The race will return to the Lang Park PCYC at 40 Castlemaine St, Milton. Free undercover parking is available for competitors in the PCYC car park off Castlemaine St. Both Milton and Roma St stations are within close proximity for those catching a train.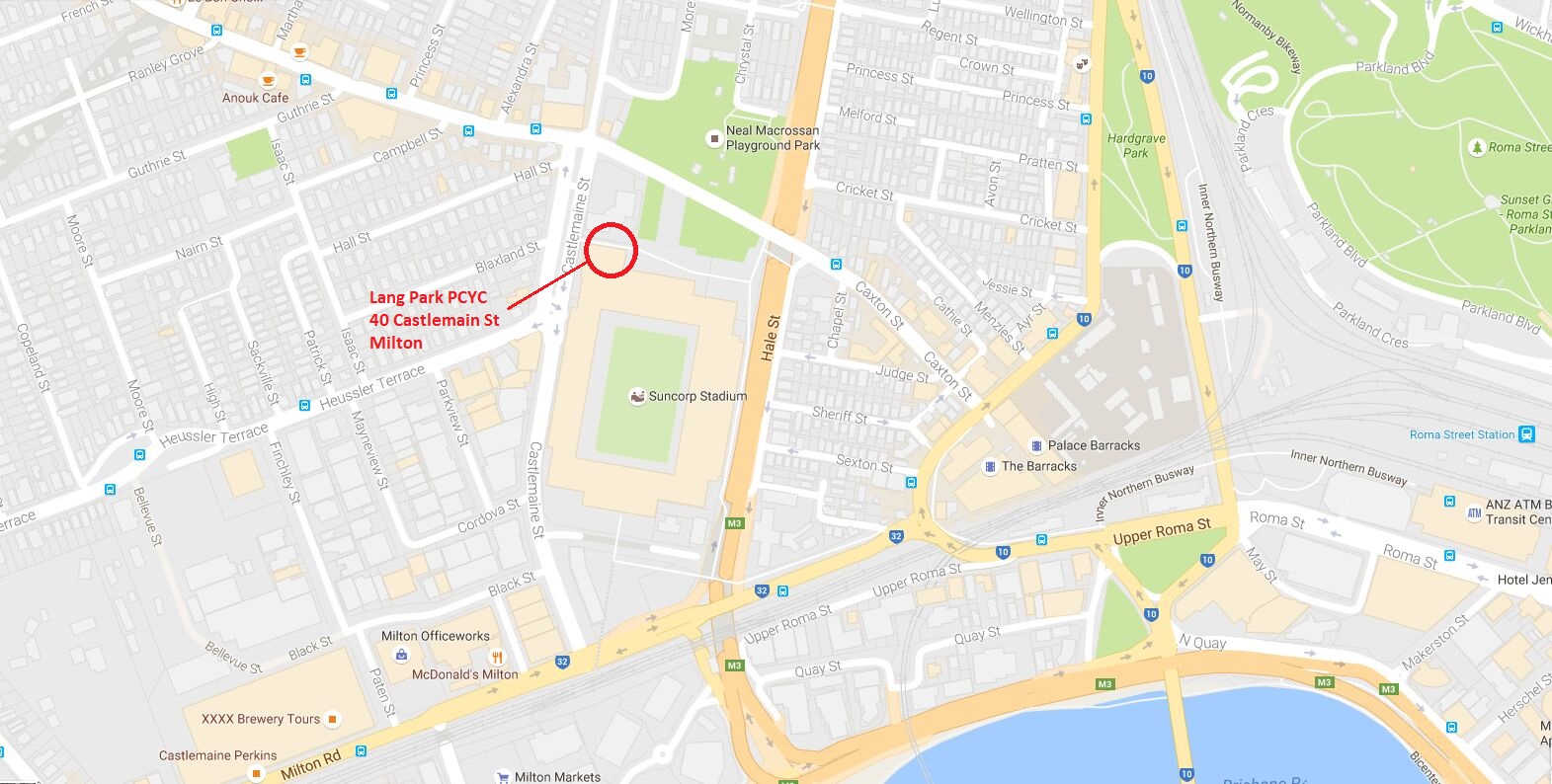 Schedule
Late registration —————————-5:20pm
Map handout ——————————–5:30pm
Final briefing ——————————–6:20pm
Event Start ———————————–6:30pm
Event Finish/Presentations/BBQ———-9:30pm
Maps
A3 colour, 1:15000, waterproof. One per competitor. Format: Q and A type check points (CPs) with a traditional rogaine scoring format. See the QLD Rogaine Association Website for more details if you are unfamiliar with how a rogaine works. For an example course, check out the Raid Adventures results page from previous events here.
Categories
Along with the traditional Mixed/Mens/Womens team categories and Colts/Open/Veterans categories, the Urban Raid will have an additional special category: "Urban Raid on Wheels". This category is open to teams using any form of non-motorised transport with wheels, except for bicycles. For example, teams in this category could use roller skates, skateboards, kick bikes, unicycles, roller blades, scooters, strollers, wheelchairs, etc. Bicycles are not permitted.
Equipment
Teams will be required to bring a torch or headlamp to read the map and a couple of marker pens to record their answers to the CPs. They will also need a digital camera or a phone capable of taking photos for a special check point. A compass and water bottle are also strongly recommended. A calculator to work out your score at the end of the race would also be handy.
Sponsors
The Urban Rogue is once again supported by a swag of fantastic prizes from Wildfire Sports and Trek. Wildfire have all your navigational and adventure gear needs sorted. Be sure to check out there online store or, better yet, their physical store in Milton – knowing how to find your way there might just come in handy of race day.
Fundraising Partner
A portion of entry fees from the Urban Raid will contribute to the Lang Park PCYC Youth Development Program to sponsor a Dukes of Edinburgh Journey which will assist the dukes to get out and experience the Australian bush. The "Dukes" will also be catering the post-race BBQ.

Entry
Entries for the 2019 Urban Rogue have now opened: